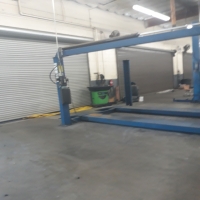 SHARE WITH YOUR FRIENDS NOW!
Total Lots/Units 1
Total Vehicles 0
Auctioneer American Auctioneers
Legal sale of abandoned property. Originally ALL LUBE AND TUNE- will be sold at the discretion of the auctioneer. 15% buyer premium and sales tax added to purchases. 3 hydraulic car lifts and much more.


Sofa Love seat
Three (3)Bend Park blue in color above ground lifts
Lap top
Monitor, keyboard, printer, phone, credit card reader
10 sets of wiper blades
Approximately 90 used tires
Portable cooling system unit
Used tools including wrenches and sockets
Used car seat
Coffee maker
"Wind up" headphones in case
"Big sound" portable speaker sports earbuds
Four wooden chairs
10 barrels of used oil
3 boxes of used air filters
business/office paperwork scattered
Heavy machinery
Miscellaneous hand tools
Boxed automotive merchandise (filters, etc)
Pepsi small refrigerator
Used microwave
Sliding glass door freezer

There is a 15% buyers premium on all purchases, unless otherwise specified in the description above. Sales tax will added to all purchases unless buyer holds a valid California resale permit. All purchases are cash only unless otherwise specified. All items are sold as is, where is, no guarantee or warranty.
---